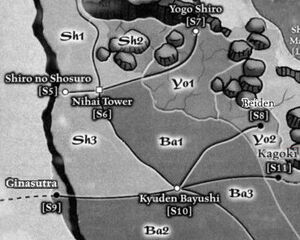 The Kunizakai province (Ba1) was the Bayushi province extending from the westernmost borders of the Yogo provinces, to the easternmost border of the Kawa province (Sh3), and from the northernmost border of the Chuuou province (Ba3), to the southernmost border of the Kakushikoto province (Sh2). Notable locations within the province was the Scorpion capital, Kyuden Bayushi (S10), Shiro Kuraishi and the Honor's Lesson Dojo. [1] Most of it was a mixture of plains and low hills with occasional stands of trees, and farming villages. [2]
References
Ad blocker interference detected!
Wikia is a free-to-use site that makes money from advertising. We have a modified experience for viewers using ad blockers

Wikia is not accessible if you've made further modifications. Remove the custom ad blocker rule(s) and the page will load as expected.