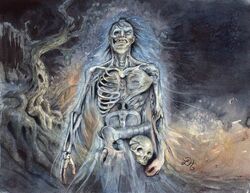 Kuni Yoshimitsu was a Crab Clan shugenja. [1]
On his final raid into the Shadowlands, Yoshimitsu brought along a Maho scroll in case anything went wrong. Unable to defeat his quarry, a Kyoso no Oni spawn, Yoshimitsu turned to the Maho and instantly became Lost. Since then he had haunted his kinsmen. [2]
The nezumi G'ni'ch slew Yoshimitsu during the War Against Fu Leng, [3] who became a Yokai. [4] His soul ended up in Jigoku. [5]
External Links
Edit
References