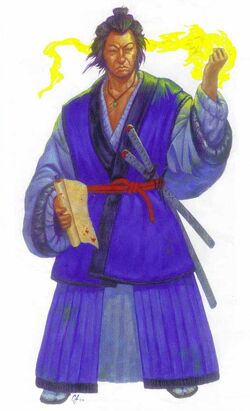 Kuni Yairao was an earth shugenja of the Crab Clan.
Coronation of Iweko II
Edit
In 1200 the Gift of the Emperor tournament was held shortly after the coronation of Iweko II, to celebrate the Emperor's birthday. Hida Taisho won Daigotsu Shaoru in one of the tournament events. The two men met again later that night, and publicly exchanged bitter insults. Shaoru killed Taisho during a duel sanctioned by the Emperor himself, with Kuni Yairao as the arbiter. The shugenja pondered with Kitsune Gorikki the threat to the Empire posed by the Spider Clan. The Mantis offered support to the Crab, sending one of their legions to the Kaiu Wall. [1]
External Links
Edit
References