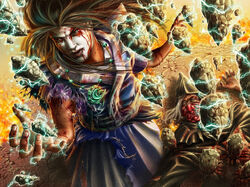 Kuni Shinoda was an Earth shugenja and tactician of the Crab Clan.
Takasho's Death
Edit
His victory over the Onyx Champion Takasho has only strengthened his resolve to destroy the Shadowlands. [1]
Colonies
Edit
In 1198 Shinoda was in the Colonies, when he found a Pearl Bed in the waters beside the cliffs [2] near the Crimson Watchtower of the Vigilant. [3]
Dark Naga
Edit
Again back in the Empire, the Jade Magistrate Tamori Yayu brought to him a Dark Naga prisoner. Shinoda did not see much use to have it alive, so he killed the Naga and desecrated its body for further research. No trace of Shadowlands Taint was found. [4]
Advisor to the Jade Champion
Edit
Shinoda was appointed as advisor to the Jade Champion. [5]
External Links
Edit
References