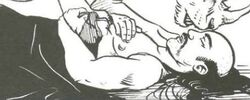 Kuni Satoshi was a shugenja of the Crab Clan.
Shadowlands
Edit
In 785 Satoshi took part in a scouting mission in the Shadowlands. He requested the usual Tea of Jade Petals supply, to work against any possible taint infection, but Kuni Kenichi denied it. [1]
Losing Memory
Edit
Since his return Satoshi awoke each morning restless and aching, with nightmares of a fabled creature. One day he did not remind the name of the Crab witnesses, another day he could not remember how to wear his sword, and he began to grow weak. [1]
Eater of Dreams
Edit
His friend Hiruma Iku feared for him and did not leave his side. Eventually he saw a ghostly shape passing through the wall and sat upon his chest. It was a Baku no Oni, an Eater of Dreams. The next night Iku prepared a trap with jade which forced the Baku to assume its true form, allowing the creature to be killed by weapons. After the incident Kenichi was executed for treason. [1]
References
Ad blocker interference detected!
Wikia is a free-to-use site that makes money from advertising. We have a modified experience for viewers using ad blockers

Wikia is not accessible if you've made further modifications. Remove the custom ad blocker rule(s) and the page will load as expected.