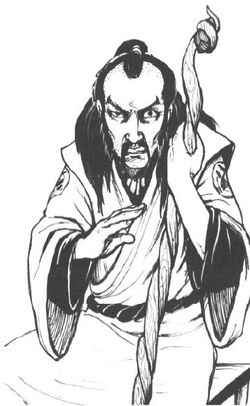 Kuni Ryo was a shugenja and Maho-tsukai of the Crab Clan who inhabited at Ryoko Owari Toshi as a merchant. [1]
Ambushing
Edit
When a group of samurai and magistrates came to him asking about maho activities Ryo denied any knowledge about it. Fearing they were too close to his secret dealings Ryo sent his apprentices led by Yaraiko against them, but failed. [1]
Betrayed
Edit
Yaraiko confessed Ryo was his master, and also another captured cultist, Hida Gyogi, drew the attention of the magistrates to him, but Gyogi was not his servant. [2]
See also
Edit
References
Ad blocker interference detected!
Wikia is a free-to-use site that makes money from advertising. We have a modified experience for viewers using ad blockers

Wikia is not accessible if you've made further modifications. Remove the custom ad blocker rule(s) and the page will load as expected.