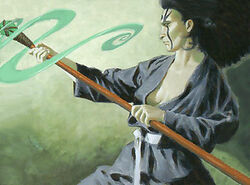 Kuni Ochiyo was a Crab Clan Earth shugenja. Ochiyo was a supporter of the Khan Moto Chagatai's attempt to take the Imperial Throne by force during the Khan's Defiance. [1]
Ochiyo filled the ranks of the Kuni since they lost a large number inthe Kyofu's Last March. [2]
Jade Championship
Edit
In 1169 she alongside Kuni Daigo and the Kuni Daimyo Kuni Kiyoshi offered the former Daimyo Kuni Tansho to be the contender for the Test of the Jade Champion. She refused, feeling too old for that duties, and they pondered which were the responsabilities of a Jade Champion. Ochiyo was one of the chosen contenders of the tournament. [3] Ochiyo was defeated by Tamori Wotan. [2]
External Links
Edit
References
Ad blocker interference detected!
Wikia is a free-to-use site that makes money from advertising. We have a modified experience for viewers using ad blockers

Wikia is not accessible if you've made further modifications. Remove the custom ad blocker rule(s) and the page will load as expected.