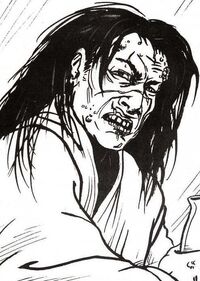 Kuni Godaigo was a Kuni Witch Hunter. He was cursed with deformities since birth, and as such was forced to live much of his life away from public view. [1]
Childhood
Edit
Godaigo was mocked by other children and he was sent to a temple in the Dragon lands. After ten years he returned home. [1]
Kuni Witch Hunter
Edit
In the Kuni yearly gathering at Kyuden Hida Godaigo was selected by Kuni Noda to become a Kuni Witch Hunter. Godaigo was sarcastic, tacless, and foul. He grew up apart of the society and lacked any civility custom. Noda was his sensei until he was killed, and Godaigo earned respect as a worthy Witch Hunter. [1]
See Also
Edit
References