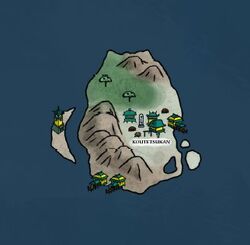 Iron Turtle City (A26) was a humble city, but it was also the single largest producer of boats and ships in Rokugan, building mostly for the Mantis, Phoenix, Crane, and Crab Clans, as well as the Seppun family. It was said that with a ship built in Koutetsukan with a Mantis navigator, there was no port a captain could not reach. [1]
Founding
Edit
After the Return of the Ki-Rin in the 9th century the Seppun family reinforced the Empire's defenses against an invasion. Koutetsukan and its shipyards were founded to protect Rokugan from naval invasion, to build a vast Imperial fleet and explore the seas, destroying any potential threats encountered. After one year the new Emperor ordered that the plans be scrapped and the fleet scuttled. The fleet was divided up between the Mantis and the Daidoji. Though the Seppun still laid claim to the city, they cared little for what went on there, effectively becoming a Mantis city. Its vast shipyards constructed a many vessels, including the Crab Iron Turtle warships that gave the city its name. [2]
Volcanic Island
Edit
The city had been located in a volcanic island, formed after the 9th century by a volcanic eruption. [3]
Known Governors
Edit
References
↑ Legend of the Five Rings; Third Edition, p. 300
↑ Secrets of the Mantis, p. 22
↑ Secrets of the Mantis, p. 14
Ad blocker interference detected!
Wikia is a free-to-use site that makes money from advertising. We have a modified experience for viewers using ad blockers

Wikia is not accessible if you've made further modifications. Remove the custom ad blocker rule(s) and the page will load as expected.