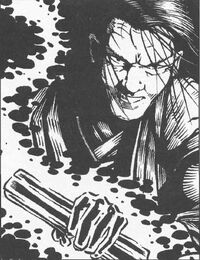 Koshi was a weak-minded simpleton who became abbot of the Kuni Harike Temple.
Becoming the Abbot
Edit
A Bog Hag by the name Higashato had taken the skin of Kuni Harike, the shugenja who in the 7th century sacrificed himself to defeat the Kusatte Iru. Disguised as the Harike she appeared to the monks and insured Koshi was selected as abbot of the temple built to honor the Kuni. [1]
Koshi was aware of the true nature of Higashato and the faked appearances of the late Harike, but he had been twisted over time. When the Bog Hag told her plan of raising Kusatte Iru, Koshi believed it would bring about his salvation. [1]
Sucessful Ritual
Edit
A group of magistrates were lured by Higashato to the nearby holding of Kyuden Toketsu. This same night Koshi, following his goddess' orders, slew all the monks but three, [2] those who would be chained until their sacrifice. The magistrates bargained with Hisagahato, who finalized the ritual, and used the Harike's Obsidian Stone to avoid the Kusatte Iru to awaken. [3]
See also
Edit
References
Ad blocker interference detected!
Wikia is a free-to-use site that makes money from advertising. We have a modified experience for viewers using ad blockers

Wikia is not accessible if you've made further modifications. Remove the custom ad blocker rule(s) and the page will load as expected.