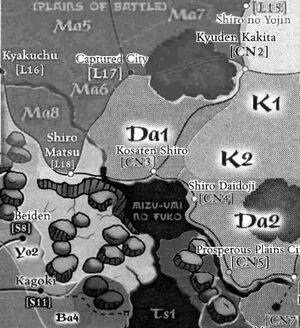 The Kosaten province (Da1) was the northernmost of the Daidoji provinces.
Kosaten was bordered in the north and west by the lands of their ancestral enemies, the Lion Clan, by the Three Sides River and the Spine of the World Mountains in the southwest, which separated the Crane from the lands of the Scorpion Clan, by the Lake of Sorrows in the south, which separated from the Mantis lands, being enveloped in the east by the Kakita provinces of Takuetsu (K1) and Nanhan (K2). [1]
Holdings
Edit
Its most important holdings were Kosaten Shiro, [1] and the Three Sides Watchtower in the Lion border. [2] Like most of the northern Crane provinces, it was a richly productive agricultural territory, with numerous villages surrounded by rice paddies and grain fields. [3]
Known Governors
Edit
References
↑ Secrets of the Crane, p. 26
↑ Second City - The Campaign, p. 9
Ad blocker interference detected!
Wikia is a free-to-use site that makes money from advertising. We have a modified experience for viewers using ad blockers

Wikia is not accessible if you've made further modifications. Remove the custom ad blocker rule(s) and the page will load as expected.