Ad blocker interference detected!
Wikia is a free-to-use site that makes money from advertising. We have a modified experience for viewers using ad blockers

Wikia is not accessible if you've made further modifications. Remove the custom ad blocker rule(s) and the page will load as expected.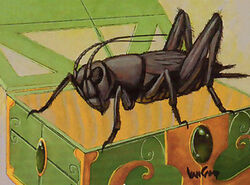 Crickets, known as korogi by Rokugani, [1] were nocturnal insects of flattened bodies, jumping hind legs, and long antennae. They were considered insects that brought good luck. [2] Lucky cricket, a small cricket in a cage, was quite popular among the Mantis. [3]
See also
Edit
External Links
Edit
References
↑ Time of the Void, p. 70
↑ GM's Survival Guide, p. 13
↑ Legend of the Five Rings; Third Edition, p. 181