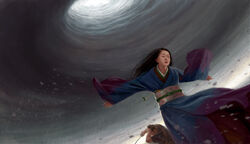 Komori Taruko was an air shugenja of the Bat Clan.
Ivory Kingdoms
Edit
In 1172 Taruko was alongside with her lord Komori during the Mantis expedition to the Ivory Kingdoms during the Destroyer War. [1]
Long-range communciations
Edit
The Komori Shugenja had been brought along to the Kingdoms to facilitate communication with Rokugan, but the Phoenix had made that purpose redundant. [2] They had developed a long-range communication ritual through the thunder element. [3]
Age of Conquest
Edit
Taruko survived the war and followed to support the Empire's agenda during the Age of Conquest. [4]
External Links
Edit
References