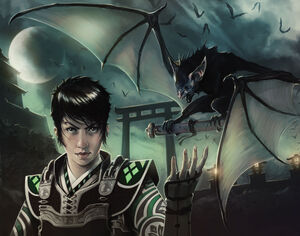 Komori Miyano, nicknamed the Shadow Wing, was an Air shugenja of the Bat Clan who lived in the last years of the 12th century. She was an ambassador of the Alliance of Minor Clans [1] to the Unicorn Clan, and eventually Miyano joined the Great Clan. [2]
Miyano was slight of build, and perhaps the most powerful shugenja the Bat ever produced. He had an apparent natural affinity with the bats, the totem animal of his clan, which seemed to consider him one of their own. At night he summoned vast hordes of them, to overwhelm his enemies or ferry his messages. Many said that Miyano was more at home with the creatures of the night than with humans, but if true, it has not affected his service to the Bat Clan or their patrons among the Mantis. [3]
Colonies
Edit
Miyano could communicate with the Empire almost as quickly as the Mantis and Phoenix, and without the unpleasant price they paid. [4]
External Links
Edit
References
Ad blocker interference detected!
Wikia is a free-to-use site that makes money from advertising. We have a modified experience for viewers using ad blockers

Wikia is not accessible if you've made further modifications. Remove the custom ad blocker rule(s) and the page will load as expected.