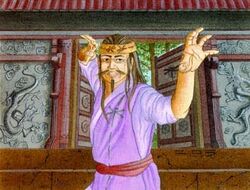 Komaro was a monk who somehow earned the ire of Hida O-Ushi.
War Against Shadow
Edit
In the Battle of Oblivion's Gate Komaro became tainted and joined the Lost in the Shadowlands. [1]
Surrendering to the Crane
Edit
Komaro was an ally of Katsu until the shugenja surrended to Daidoji Gudeta after saving Gudeta's life. Komaro was living as a refugee in Shinden Asahina under supervision of Jade Magistrates, [1] giving information about Daigotsu.[2]
External Links
Edit
References
Ad blocker interference detected!
Wikia is a free-to-use site that makes money from advertising. We have a modified experience for viewers using ad blockers

Wikia is not accessible if you've made further modifications. Remove the custom ad blocker rule(s) and the page will load as expected.