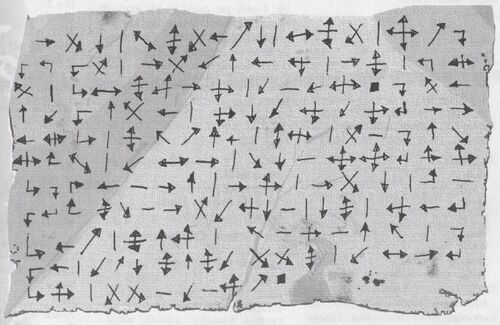 The Kolat Code Scroll was a kolat scroll that resulted in the Siege of Shiro Usagi in 1123.
Initial Exhange
Edit
The Scroll was first given to Soshi Yukio by Matsu Akira in Otosan Uchi in 1123. The exchange was witnesssed by Usagi Ozaki, a friend of Akira's, who believed Akira was being blackmailed. Ozaki followed Yukio, who spotted him and fled and was killed in the pursuit. Ozaki and his sister Usagi Tomoe fled Otosan Uchi with the scroll. [1]
Matsu Chokoku
Edit
Matsu Chokoku secretly hired a small group of samurai to obtain the scroll discreetly. He claimed it had been stolen by a Kitsu and its contents could be insulting if discovered. [2]
Tomaru's Army
Edit
Sometime shortly after an Scorpion army led by Bayushi Tomaru was sent to besiege Shiro Usagi. Tomaru claimed that they were there to avenge the death of Yukio and reclaim items stolen from her.[3] The army destroyed Shiro Usagi, killed the Hare Clan Champion Usagi Oda and captured Tomoe. Ozaki fled with the Hare Clan Sword. [4]
Contents
Edit
In the final days of the siege Tomoe was able to finally decipher the scroll. It was apparently an order to kill a magistrate in Forest Shadow City, making it look like suicide, who was interfering with an agent's work there. It also mentioned a "master". [5]
Solution of the Scroll
Edit
It was a substitution cipher with a twist. The four kinds of arrows which were right-angle bends are not letters, but are control codes. Starting at the top left-hand corner of the puzzle, with the paper held right-side-up, start reading from left to right. When you hit the first right-angle bend, turn the entire page sideways and keep reading. The arrows snake through the entire message, turning it this way and that, until you reach the square box in the bottom line. Not only are the letter codes not in standard left-to-right order, they change depending on the orientation of the paper, meaning that the same symbol could stand for up to four different letters, depending on the direction the paper had been turned.
If you follow the arrows and copy out the message in a straight line, it then becomes a standard substitution cipher. The boxes are periods, and the vertical lines are spaces. The final message is:
OUR MASTER HAS LEARNED OF AN INVESTIGATION OF OUR WORK IN FOREST SHADOW CITY. DEFEND OUR AGENT BY KILLING THE MAGISTRATE AND GIVING THE APPEARANCE OF SUICIDE. [citation needed]
References
Ad blocker interference detected!
Wikia is a free-to-use site that makes money from advertising. We have a modified experience for viewers using ad blockers

Wikia is not accessible if you've made further modifications. Remove the custom ad blocker rule(s) and the page will load as expected.