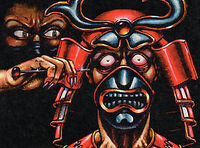 Kolat Assassins used poison to murder maximizing terror while minimizing any chance of detection, while bloody kills were used to frame others planting false evidences. When it was necessary deep infiltratation a specific target was eliminated to replace him with a Kolat actor. [1] Most of their number became members of the Lotus Sect, though every sect retains a few agents skilled in the art of killing. [2]
Known Techniques
Edit
See also
Edit
External links
Edit
References
Ad blocker interference detected!
Wikia is a free-to-use site that makes money from advertising. We have a modified experience for viewers using ad blockers

Wikia is not accessible if you've made further modifications. Remove the custom ad blocker rule(s) and the page will load as expected.