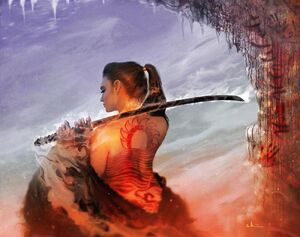 Kokujin Kuchika, Blood of the Dark Lotus, was a tainted monk and kensai of the Spider Clan. She was tattooed by Kokujin Dairu, with the blood of a victim. [1]
Biding her Time
Edit
Kuchika saw as an opportunity the ascension of Iweko Seiken as the new Emperor Iweko II. The enmity of Seiken against the Spider would end in his failure, and she renewed the loyalty of the Kokujin family to Daigotsu Kanpeki. Dairu told him about the incoming Evil Portents which would herald the rise of Jigoku, the time of the Dark Lotus was at hand. [2]
War in the Empire
Edit
In 1200 her Lord Daigotsu Kanpeki embraced the gifts of Jigoku and ordered his followers to go into hinding, to make war to the Empire. Kuchika and her forces went to several Spider monasteries to gather the monk. Eventually her forces were defeated by monks from a small monastery outside the Shinomen Mori, who alonsgide their leader Sora fled from the place. Kuchika was the only survivor, and put the monastery to the torch. [3]
External Links
Edit
References
Ad blocker interference detected!
Wikia is a free-to-use site that makes money from advertising. We have a modified experience for viewers using ad blockers

Wikia is not accessible if you've made further modifications. Remove the custom ad blocker rule(s) and the page will load as expected.