The Kokujin's Daisho was made by Kokujin to mirror that of Togashi's Daisho.
Anvil of Despair
Edit
The daisho was forged in 1159 on the Anvil of Despair [1] with the souls of the Dragon who challenged Kokujin. [2]
Abilities
Edit
The daisho was a sinister and corrupting influence and could pass the taint to the wielder and to any who was wounded with it. If the wounded was already tainted, he died after the duel. The daisho increased the duelist ability of its wielder. [3]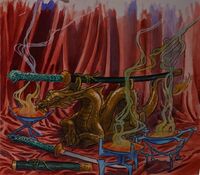 External Links
Edit
References
Ad blocker interference detected!
Wikia is a free-to-use site that makes money from advertising. We have a modified experience for viewers using ad blockers

Wikia is not accessible if you've made further modifications. Remove the custom ad blocker rule(s) and the page will load as expected.