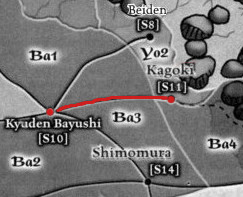 Koku Road connected Kagoki (S11) to Kyuden Bayushi (S10). So named because of the great amount of taxes that flew from these cities, this was the most heavily patrolled road in Scorpion lands, chasing bandits attempting to prey upon the large shipments of rice and materials that moved between the two locations. [1]
References
↑ Secrets of the Scorpion, p. 65
Ad blocker interference detected!
Wikia is a free-to-use site that makes money from advertising. We have a modified experience for viewers using ad blockers

Wikia is not accessible if you've made further modifications. Remove the custom ad blocker rule(s) and the page will load as expected.