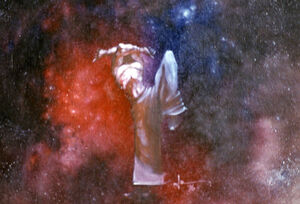 Isawa Koichi was a Ishiken of the Phoenix Clan who became Koichi, a Monk and Acolyte of the Void member of the Brotherhood of Shinsei.
Koichi was an Ishiken of the same ability than Isawa Kaede, and some guessed he could became the next Master of Void. Koichi became interested in the Prophecies of Uikku during his studies at Kyuden Isawa, an read about the corruption of the Phoenix. [1]
"When Fu Leng shall rise again, the Children of Isawa shall become corrupt and fall, but one of their number shall be preserved. He shall know the truth of Shinsei's Way, and shall contemplate it through the fullness of all things. Then he shall teach the Masters the truth of Void."
Joining the Brotherhood
Edit
Koichi believed that an Ishi must leave the Isawa and become a monk or the entire family would be destroyed and become servants of Fu Leng. His interpretation was dismissed by the Council of Five, so Koichi left the Clan and joined the Brotherhood of Shinsei. He spent his time studying the prophecies and attempting to create a link with Uikku thorug the Void. His belief that he was the prophesied savior of the Isawa made him a pariah even among his fellow brothers. [1]
Temple Master
Edit
Koichi became the master of the Shrine of the Seven Thunders. There he met Eisai, a nun who no one knew her real name or from where she came from. She never spoke and seemed unable to do so, but Koichi and her communicated through gestures. After several weeks of pondering, Koichi joined her in the vigil at the foot of the Mountains of the Seven Thunders. Ever since, Koichi called the young monk "sensei" in return. [2]
See also
Edit
External Links
Edit
References
Ad blocker interference detected!
Wikia is a free-to-use site that makes money from advertising. We have a modified experience for viewers using ad blockers

Wikia is not accessible if you've made further modifications. Remove the custom ad blocker rule(s) and the page will load as expected.