Ad blocker interference detected!
Wikia is a free-to-use site that makes money from advertising. We have a modified experience for viewers using ad blockers

Wikia is not accessible if you've made further modifications. Remove the custom ad blocker rule(s) and the page will load as expected.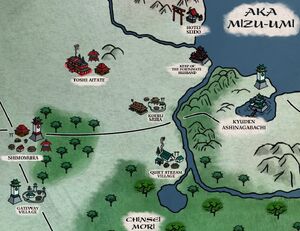 Koeru Mura (A15) was a small village that grew rice and grain for the minor clans.
Ronin Control
Edit
When the village was under ronin control, its governor would meet with the neighbouring minor clans every year and sell the harvest to the highest bidder. Only by these means did the little ronin village survive from year to year. [1]
Minor Clan Alliance
Edit
After 1165, the village became a training ground for the Minor Clan Alliance military forces, Koeru Mura Dojo. This increased investment by the Tortoise Clan made it a relatively richer place. However, the Lion Clan was seen as threatening its independence. To avoid such an annexation, the Tortoise courtier Kasuga Toru negotiated its temporary occupation by the Mantis Clan with Moshi Kiyomori in exchange for the Southern Hub Silk Works. [2]
References
↑ Legend of the Five Rings; Third Edition, p. 301