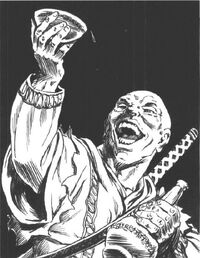 Kobei, most known as Shrimp, was a sailor of the Mantis Clan.
Kobei was a cheerful man who owned the vessel Whistle, which could be handled by one man alone. He used it to smuggle in the Ryoko Owari Toshi area. [1]
Changing path
Edit
Kobei began to learn under Kitsuki Jotomon's teaching to increase his skills as swordmanship. The lessons of Jotomon were not only about the sword, and Kobei examined his own life, and decided to leave his past away. He hired his sword as bodyguard. [1]
See Also
Edit
References