RPG Information
Edit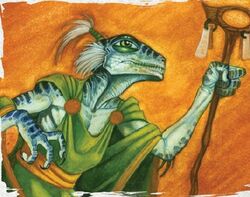 Kjgkt, Zokujin Prophet
Statistics
Edit
| | | | | | |
| --- | --- | --- | --- | --- | --- |
| | Air 3 | Earth 7 | Fire 5 | Water 5 | Void 0 |
| | Reflexes 3 | Stamina 7 | Agility 5 | Strength 7 | |
| | Awareness 5 | Willpower 8 | Intelligence 7 | Perception 5 | |
Advantages
Edit
Disadvantages
Edit
Kjgkt have nearly any Earth spell not developed by mortal hand as an [[Innate Ability]]. Additionally it has the following spells: Bo of Water, Heart of Nature, Path to Inner Peace, Perceive Harmony, Reflections of Pan Ku, Reflective Pool, Regrow the Wound, Silent Waters, Wisdom and Clarity.
Major References
Edit
Secrets of the Dragon, page 58
Sources Conflict
The sources relating to this article are in conflict with each other.
In Secrets of the dragon page 84 a diferent statistics of Kjgkt are given. Oni no Pikachu (talk) 14:10, April 27, 2013 (UTC)