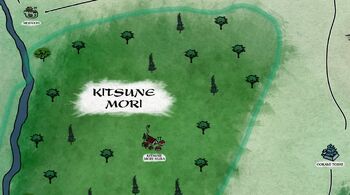 Kitsune Mori Mura (A23) was a village hidden within Kitsune Mori, filled with strange architecture. The houses were grown from the trees and the sliding screens were been made from leaves instead of rice paper. The Fox Clan made use of all of the forest's bounty, harvesting acorns, berries and nuts. [1] It was one of the places where the Tournament of the Minor Clans was held. [2]
Portal to Chikushudo
Edit
Hidden somewhere within the forest was a permanent portal to the Realm of Chikushudo. The village was assaulted in 1169 by dark forces looking for a young samurai-ko prophet, Kitsune Narako. [3]
In the dojo it was taught the Kitsune Shugenja, Kitsune Spirit Guide, and Woodland Tracker schools. [4]
There was a large shrine to Inari, the Fortune of rice and friend of the kitsune spirits that inhabit the wild forest groves around Kyuden Kitsune. [1] The purpose of the shrine was to honor the kitsune who kept the members of the Fox Clan alive when they first moved into the forest. Other small shrines dot the landscape around the village, dedicated not only to spirits, but to the ancestors of the clan as well, including one to the former Daimyo Kitsune Ryosei. Ryosei's successor, Kitsune Ryukan, was quite unconventional in that he invited the peasants to take part in the rituals held at the shrine. [3]
References
↑ Masters of Magic, p. 79
Ad blocker interference detected!
Wikia is a free-to-use site that makes money from advertising. We have a modified experience for viewers using ad blockers

Wikia is not accessible if you've made further modifications. Remove the custom ad blocker rule(s) and the page will load as expected.