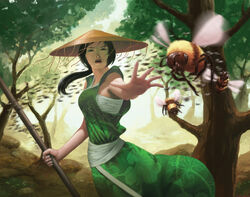 Kitsune Merihiko was an earth shugenja of the Mantis Clan.
Conflict with the Crane
Edit
During her station in the Colonies tensions arised with the Crane Clan. Merihiko used the bees as her eyes to scout the Crane. [1]
Ivory Champion's Advisor
Edit
Merihiko was appointed as advisor of the Ivory Champion Shinjo Tselu. [2]
External Links
Edit
References