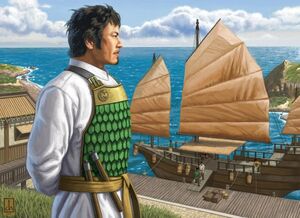 Kitsune Iwarou was a bushi and scout of the Mantis Clan.
Mondai Ketsu's Legacy
Edit
Iwarou lived in Toshi Ranbo, in estates owned by the Kitsune family prior to its absorption into the Mantis Clan. He was the great-grandson of Kitsune Taro, the last commander of the Mondai Ketsu, a group who were killed to a man during the Fall of Otosan Uchi. His grandmother and great-uncle were children at this time and weren't in the Fox Clan Embassy when the Mondai Ketsu were massacred. Iwarou had been trained in the Seppun Guardsmen thanks to this legacy. He eventually attempted to resurrect the Mondai Ketsu during the reign of Iweko I. [1]
See also
Edit
External Links
Edit
References
↑ Unexpected Allies 2, p. 40
Ad blocker interference detected!
Wikia is a free-to-use site that makes money from advertising. We have a modified experience for viewers using ad blockers

Wikia is not accessible if you've made further modifications. Remove the custom ad blocker rule(s) and the page will load as expected.