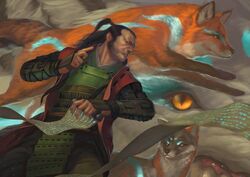 Kitsune Hisano was an Earth shugenja and scout of the Mantis Clan.
As a child, Hisano wandered away from his parents and into Kitsune Mori. Despite the efforts of many within the Fox Clan, he remained missing for seven days. It was not until the eighth morning, after he had been given up for dead by all including his own parents, that he was found in the lair of a fox vixen. It was not known if he had been in the den the whole time or not, but it was obvious that the forest spirits had protected the child. A result of experience is that the young shugenja developed a deep fascination with Kitsune Mori. [1]
Troubles in the Forest
Edit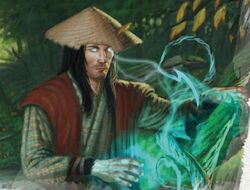 In 1169, when a mysterious force began to assault the forest and the Fox Clan, Hisano was dismayed. He worked hard to defend his home and, unlike many of the other Kitsune, he embraced the aid given by the Mantis Clan. He began working hard with the new resources available to fix the damage that had been done to the forest. [1]
Summoner
Edit
Hisano could call to the spirits of the wild, and they graced him by answering. These fox spirit companions were called Hisano's Guide. [2]
When in 1198, a Mantis vessel did not return to port Hisano was appointed to discover what was behind the missing ship. [3]
See also
Edit
External Links
Edit
References
Ad blocker interference detected!
Wikia is a free-to-use site that makes money from advertising. We have a modified experience for viewers using ad blockers

Wikia is not accessible if you've made further modifications. Remove the custom ad blocker rule(s) and the page will load as expected.