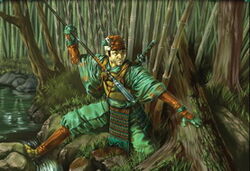 Kitsune Ando was a bushi scout of the Mantis Clan.
Betrothed
Edit
Ando was betrothed to a Moshi priestess. She was a pure soul as him. They only met once before Ando departed to fight in the Destroyer War. [1]
Destroyer War
Edit
In the month of the Hare of 1173 [2] Ando was near Kudo, a Hare village that would be the next target of the Destroyers. The orders were to fall back, and leave it undefended. Ando believed there was no time to evacuate all the villagers. Ando was met by a Snow Maiden, who presented herself as the disappeared aunt of Ando's fiancée, Moshi Hinome. She dismissed Ando, and the Snow Maiden went to defend the village from the gaijin demons. [1]
External Links
Edit
References
↑ Imperial Histories 2, p. 253