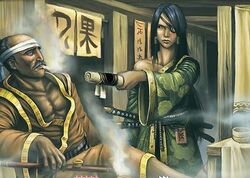 Kitsuki Yodo was a bushi and a magistrate of the Dragon Clan.
In 1172 Yodo was at Toshi Ranbo where she met several times with Taishuu, a former Mirumoto who had joined the ranks of Daigotsu and became the ambassador to the Empire of the Spider Clan. She needed to understand how any honorable Dragon warrior could be brought to this. Taishuu told her his story, under the promise she would not tell it to others. [1]
Destroyer War
Edit
During the Destroyer War Yodo was alongside the ronin Gahseng. She despised him and his behaviour, giving her orders when she was of equal rank, and held seniority. The ronin left the unit for a time, because he believed the Destroyers were approaching Kyobu Mura, a Scorpion village nearby. Yodo did not believe him, but the village was assaulted and seized shortly after. [2]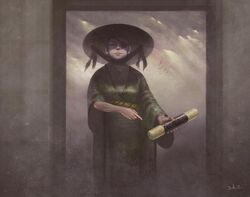 The exact fate of Yodo was unknown but she was dead before the end of the 12th century. [3] She spent her last years as sensei, passing her knowledge to the next generations. [4]
External Links
Edit
References
Ad blocker interference detected!
Wikia is a free-to-use site that makes money from advertising. We have a modified experience for viewers using ad blockers

Wikia is not accessible if you've made further modifications. Remove the custom ad blocker rule(s) and the page will load as expected.