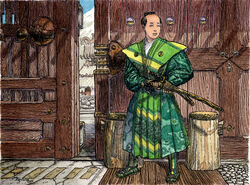 Kitsuki Seiji was a courtier of the Dragon Clan.
Trading Rice
Edit
The War of Silk and Steel had taxed the Dragon resources to their very limit. In 1167 Seiji was tasked to exchange rice trade agreements with the Minor Clans, offering to sponsorship them in the Imperial Court. He traveled with his appointed yojimbo Mirumoto Kenzo and a ronin vassal, Hozumi. He succesfully made an agreement with the Ox Clan. [1]
Monkey Clan
Edit
The group came to the Vigilant Keep of the Monkey, to meet the Monkey Clan Champion Toku Inao. The Scorpion Clan represented by Bayushi Tsimaru was already there, with the same purpose. Seiji was surprised when Hozumi introduced himself to Inao as the son of Toku's comrade, Sanzo. [1]
External Links
Edit
References
Ad blocker interference detected!
Wikia is a free-to-use site that makes money from advertising. We have a modified experience for viewers using ad blockers

Wikia is not accessible if you've made further modifications. Remove the custom ad blocker rule(s) and the page will load as expected.