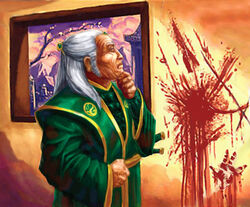 Kitsuki Otojiro was a bushi, magistrate and Investigator of the Dragon Clan.
Death of Mirumoto Uso
Edit
In 1161 Otojiro investigated in Shiro Mirumoto the death of Mirumoto Uso, the Mirumoto Daimyo. The scene of Uso's murder was altered, most likely by magic. [1] Otojiro had served the great general as one of Uso's principle advisors. He was a man Otojiro admired and respected, and he had looked upon Uso as a son. [2]
More Murders
Edit
In 1166 Otojiro was ordered by Mirumoto Rosanjin to investigate a violent murder of a Dragon magistrate in a village. Several weeks later two more deads were found in the temple of Seiden Sanzo, a monk, and a Phoenix shugenja, Asako Tsuruko. He believed that those crimes and Uso's death were related.
Rosanjin and his lieutenant Mirumoto Kenzo came to the village. They met the outlaw Kaelung, and all of them were at a brisk of a fight. Otojiro told he had found himself far more irritable than normal during his short time there, and there had been an increased number of violent incidents throughout the city. The shugenja and the monk had been killed by a left-handed, as Tsukuro's yojimbo, Mirumoto Kazunori, who had been seen entering the shrine before the corpses were found. [1]
Blade of Fury
Edit
Kenzo and Kaelung had found and killed Kazunori in a shrine hidden in the wilderness. Otojiro found a letter from Tsuruko addressed to Kazunori. The shugenja confessed she was a bloodspeaker spy in Dragon lands, who found a cursed blade which driven her to kill Uso. For years she remained free of the shamesword's influence, but finally the Fury overcame her. Tsuruko wrote the letter expecting his yojimbo could kill her. Kazunori followed the shugenja to the temple and confonted her. The blade had recognized a better host and seized the warrior, who was unable to to resist it. He had killed Tsuruko and a monk who was there. [1]
Aftermath
Edit
The Blade of Fury was retrieved by Kenzo who would deliver it to the High House of Light. [1] The investigation had ended in a bloodshed, and Rosanjin offered his apologies to the Phoenix for the failure. Otojiro offered his seppuku, but Rosanjin declined. [2]
Tsuruko's Lover
Edit
Otojiro was confronted in the Ki-Rin's Shrine by Tsuruko's lover, Isawa Toshiji. The Phoenix was a judge in his clan's lands, and believed the Dragon had failed to protect their guest. Otojiro retorted and told Toshiji was so completely blind as to overlook the fact that his intended bride was a Bloodspeaker. The Phoenix read an account of Tsukuro's corruption, first by the Bloodspeakers and then by the Bloodsword Fury, written in her own hand, and realized his guilty. Toshiji committed seppuku in less than one week's time. [2]
External Links
Edit
References
Ad blocker interference detected!
Wikia is a free-to-use site that makes money from advertising. We have a modified experience for viewers using ad blockers

Wikia is not accessible if you've made further modifications. Remove the custom ad blocker rule(s) and the page will load as expected.