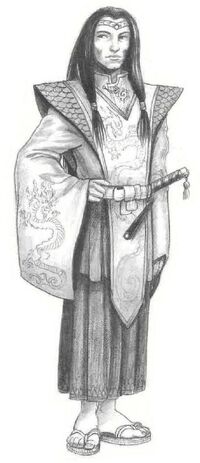 Kitsuki Nijiro was an Emerald Magistrate of the Dragon Clan. Nijiro was a stocky man who traveled the Empire to perform his duty as magistrate or as an arbitrator. As a researcher for the Kitsuki Archives he filled them up with his own accounts. Nijiro maintained himself the files of all Elemental Masters along with prominent Shiba. [1]
References
↑ Secrets of the Dragon, pp. 19-20
Ad blocker interference detected!
Wikia is a free-to-use site that makes money from advertising. We have a modified experience for viewers using ad blockers

Wikia is not accessible if you've made further modifications. Remove the custom ad blocker rule(s) and the page will load as expected.