Kitsuki Nakai was a bushi, duelist and magistrate of the Dragon Clan.
Topaz Champion
Edit
Nakai was the Topaz Champion the year of his gempukku. [1] He was appointed at the orders of Matsu Hachiken, the younger brother of the Matsu Daimyo. Hachiken was the only one who could ensure his betrothal the woman he loved, and Nakai married with Kitsuki Anjera. [2]
Colonies
Edit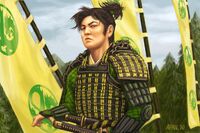 Nakai was sent to the Colonies tasked by the Lion Clan Champion to ensure that the Lion Clan's most revered Fortunes were properly paid homage there, as Ikoma Otemi, the Fortune of Recovery. [2] He arrived to the Second City after the colonial capital fell to the Imperial Legions. His appointment was temporary, so he left his wife in the Empire. There he met Bayushi Dijuro, nicknamed the Master of the Wall during his time as a defender of the city wall during the siege, who regreted he had to fight against his own kin. [3]
Topaz Champions Trio
Edit
In the Second City Nakai met Kaiu Onizuka and Shinjo Tae-Hyun, also former Topaz Champions, who offered their aid in any endeavour Nakai had there. [2]
External Links
Edit
References