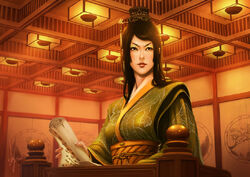 Kitsuki Minori was a courtier, magistrate and duelist of the Dragon Clan.
Imperial Court
Edit
Minori was a member of the Imperial Court in 1198, staff to the Minister of Culture. She was at Kyuden Otomo in charge with perparations for the Festival of the Hundred Hands of this year, established by Empress Iweko I to commemorate the Empire's victory over the Army of Dark Fire. [1]
Playwright
Edit
Minori used to write plays, and she held a conversation with En'you, the shojo prophet. The monkey-like creature told it would be dead before Minori would reach the Second City. She wrote a kabuki play inspired by her encounter with En'you, about a prophet foretelling the doom of his own clan, and who was eventually killed by an unnamed samurai, fearing that if the prophecy were to be revealed, it would come true. The samurai eventually committed seppuku in shame, with the rest of the clan mourning the loss of their prophet. [2]
Delicate Gamble
Edit
Minori played a delicate gamble with Shosuro Kameyoi, when she warned the Scorpion about her dangerous game. [3]
Memorial
Edit
Minori was a speaker in the memorial of Kakita Seishi presided by Tamori Tamoko. The musician had died in the Colonies under the claws of a ryu, and her corpse had been retrieved by her companion Omigawa, who had killed the mercurial creature. [4]
External Links
Edit
References
Ad blocker interference detected!
Wikia is a free-to-use site that makes money from advertising. We have a modified experience for viewers using ad blockers

Wikia is not accessible if you've made further modifications. Remove the custom ad blocker rule(s) and the page will load as expected.