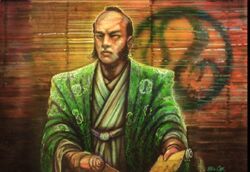 Kitsuki Kenichi was a bushi and magistrate of the Dragon Clan. He brought news about the opening phase of the War of Dark Fire. [1]
Mantis lands
Edit
In 1171 the Kitsuki Daimyo Kitsuki Berii sent Kenichi to Houritsu Mura, in an attempt to reconcile the Kitsuki family with the Mantis magistrates, but he failed. [2]
Kenichi passed his knowledge as sensei. One of his students was a young boy who would come to age as Kitsuki Kinaro. [3]
External Links
Edit
References
Ad blocker interference detected!
Wikia is a free-to-use site that makes money from advertising. We have a modified experience for viewers using ad blockers

Wikia is not accessible if you've made further modifications. Remove the custom ad blocker rule(s) and the page will load as expected.