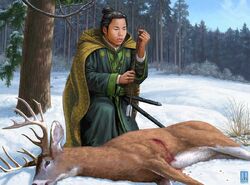 Kitsuki Horume was a courtier, duelist, magistrate and Justicar. He worked as a gamekeeper.
Training
Edit
Horume studied under a great many sensei, including Yasuki Jinn-Kuen, shortly before he retired to join the Brotherhood of Shinsei. Horume considered him the most dangerous of his sensei. [1]
Colonies
Edit
Exploring
Edit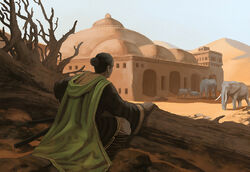 In 1198 Horume had been placed in charge of overseeing work crews to clear an area in the Colonies to make dueling grounds, [1] a place which was known as Master Jinn-Kuen's Dojo. [2] A few brisk days of travel he found a herd of trained elephants that would willingly take to the yoke to serve his clan, with the aid of a Tortoise in the Second City he knew had experience with these creatures. [1] The place would be known as the Kasuga Estates. [2]
Siege of the Second City
Edit
Horume stood in the Dragon Embassy during the Siege of the Second City. Fellow kin from other districts arrived, as Mirumoto Niwa and Togashi Ango. Horume considered death sentency to move throught the Imperial District, surrounded by members of the Ninth Imperial Legion, so he warned Ango against his desire to move toward the Peasant District to aid the heimin there. [3] After the city fell to the Imperials, the Empress' second son, Iweko Shibatsu, appointed Horume as the magistrate who would determine the depth of the former court's corruption, if any. [4]
Purge of Fudoism
Edit
In 1199 the threat of P'an Ku had gone. Ango and Horume were reported by Fusami, the Ivory Court scribe, that the newly restored Imperial Governor of the Colonies Otomo Suikihime had relinquished the Crab from the Fudo purge efforts, which were entrusted to the Dragon. [5]
External Links
Edit
References
Ad blocker interference detected!
Wikia is a free-to-use site that makes money from advertising. We have a modified experience for viewers using ad blockers

Wikia is not accessible if you've made further modifications. Remove the custom ad blocker rule(s) and the page will load as expected.