Kitsuki Daisuke was an Emerald Magistrate [1] duelist and courtier of the Dragon Clan trained as Kitsuki Investigator. He was also member of the Kolat conspiracy.
After his own's father death, it was his uncle who raised Daisuke. [1] Eventually, his uncle was killed by an Otomo in an unauthorized duel. The Imperial had been an arrogant, tyrannical fool, who deliberately provoked others into confrontations so he could kill them, and he used his status and his political connections with the Crane to avoid the consequences of his actions. The Empress Iweko I herself commuted the sentence of his uncle to seppuku. [2]
Daisuke was trained at Shiro Kitsuki as Kitsuki Investigator, drawing the attention of an older magistrate, Kitsuki Teruko. Both pondered about the Otomo's abuse, an affront to the natural order of things. Once Teruko had Daisuke's absolute trust, she revealed to him that she was a member of the Kolat, and Saiduke willingly joined the conspiracy. Shortly after he was posted at Shiro Mirumoto. [1]
Star-Crossed Lovers
Edit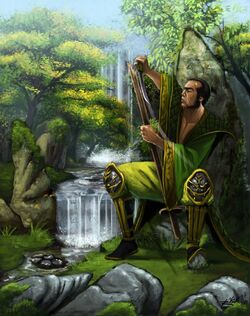 In 1198 Daisuke came to visit Otomo Kinmochi to discuss the betrothal of his lord Mirumoto Shikei and Shinjo reborn, Moto Naleesh. Shikei had asked the Imperials for a ruling, about who of the betrothed had to leave the clan if they married. Daisuke lobbied that the Unicorn would scarcely miss Naleesh's absence, while the loss of Shikei would be a disaster for the Dragon Clan. [3] That Naleesh had ascended so quickly based on nothing more than the soul of a Kami was a travesty in Daisuke's mind. [1]
Colonies
Edit
Daisuke served as magistrate in the Second City, under the command of Otomo Suikihime, [4] which gave him the opportunity to seek revenge for his uncle's death. After some searching, he found the Otomo's son, who now served the Crane Clan. [1] Daisuke found evidence that supported precisely what he desired. He tracked down the son of the Otomo who shamed his uncle, found him guilty, and executed him on the spot. [2]
See also
Edit
External Links
Edit
References
Ad blocker interference detected!
Wikia is a free-to-use site that makes money from advertising. We have a modified experience for viewers using ad blockers

Wikia is not accessible if you've made further modifications. Remove the custom ad blocker rule(s) and the page will load as expected.