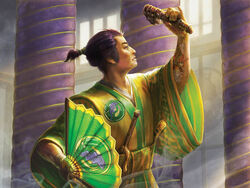 Kitsuki Akito was a magistrate and courtier of the Dragon Clan.
Twenty Festivals
Edit
In 1200 Akito and Doji Natsuyo orchestrated a duel, to test if Kakita style was superior to Niten. It was held at the Kakita Dueling Academy, in front of the Kakita Daimyo Kakita Ikura himself. Mirumoto Higaru was defeated by Kakita Shinichi, suffering the harsh words of the winner and the mockery of Kakita Iwari, a jester. [1]
External Links
Edit
References
Ad blocker interference detected!
Wikia is a free-to-use site that makes money from advertising. We have a modified experience for viewers using ad blockers

Wikia is not accessible if you've made further modifications. Remove the custom ad blocker rule(s) and the page will load as expected.