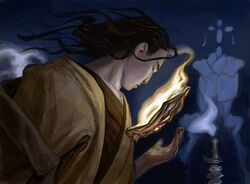 Kitsu Yutaro was a shugenja of the Lion Clan.
Ancestor
Edit
Yutaro has been able to hear his ancestors speak to him since he was very little. Yutaro tried not to be upset with his ancestors because they had never stopped speaking to him. [1]
Yutaro was appointed as physician in the Castle of the Swift Sword. In 1176 the Tensai Isawa Mizuhiko and his yojimbo Shiba Morihiko visited one of his patients, the monk Heigai, formerly known as Akodo Ginawa. Heigai and Mizuhiko dueled two days later and the monk died. [2]
See also
Edit
External Links
Edit
References
↑ Masters of Magic Web Supplement, pp. 5-6
Ad blocker interference detected!
Wikia is a free-to-use site that makes money from advertising. We have a modified experience for viewers using ad blockers

Wikia is not accessible if you've made further modifications. Remove the custom ad blocker rule(s) and the page will load as expected.