Kitsu Tenshin was a bushi of the Lion Clan.
Tenshin was brother of Kitsu Tinshu. [1]
Cursed Blade
Edit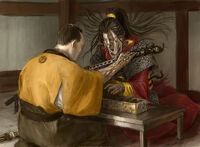 In 1169 Tenshin received a cursed blade. With it he could win a duel, as he desired. [2] The gifter, a goryo, would inform the price later, after his victory. [3] He chose to take the sword, but he did not reject his heritage. [4]
Tenshi served with great distinction in the Ikoma army. [1]
Secret Ancestry
Edit
During the Winter court of 1170, historian Ikoma Hanshiro discovered that Tenshin was a secret descendant of the Shimizu family. Luckily for Tenshin, Hanshiro could not find anything damning and so Tenshin's secret remained hidden. [1]
External Links
Edit
References
Ad blocker interference detected!
Wikia is a free-to-use site that makes money from advertising. We have a modified experience for viewers using ad blockers

Wikia is not accessible if you've made further modifications. Remove the custom ad blocker rule(s) and the page will load as expected.