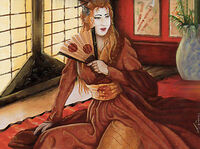 Kitsu Sanako was a Shugenja Sodan-senzo of the Lion Clan [1] and a reibai. [2]
War with the Crane
Edit
In 1125 Sanako was member of the Lion diplomats who claimed the Plains of the Emerald Champion to the Crane during the Lion-Crane War. Kakita Ichiro and Matsu Morishigi had ended the talk negotiations with no results and the ensuing battle was ready to start. Miya Yumi appeared and dismissed Ichiro and Morishigi as representatives of their respective Clans, leaving the peace talks to Sanako and herself. [1]
External Links
Edit
References
Ad blocker interference detected!
Wikia is a free-to-use site that makes money from advertising. We have a modified experience for viewers using ad blockers

Wikia is not accessible if you've made further modifications. Remove the custom ad blocker rule(s) and the page will load as expected.