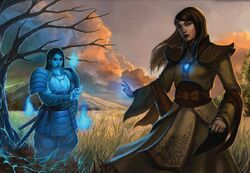 Kitsu Kagako was a water shugenja of the Lion Clan. Her grandmother granted guidance to Kagako. [1]
Kagako was an advisor of her lady Akodo Dairuko. [2] The shugenja aided the Lion Clan Champion to remove any doubt before she took Shinrai, the Celestial Sword of the Lion, for first time. [3]
Colonies
Edit
In 1198 her Champion trusted Kagako to travel to the Colonies and investigate the rampant exploration taking place there. Near a cliff overlooking a small lake, Kagako found a portal [2] to Chikushudo, [4] in a place which would be known as the Cliffs of Pekkle's Laughter. [5]
As sensei Kagako passed her knowledge to the next generations. [6]
External Links
Edit
References
Ad blocker interference detected!
Wikia is a free-to-use site that makes money from advertising. We have a modified experience for viewers using ad blockers

Wikia is not accessible if you've made further modifications. Remove the custom ad blocker rule(s) and the page will load as expected.