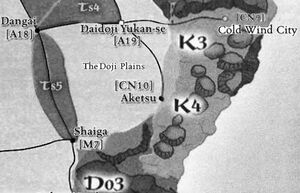 Kishou province (K4) was the southernmost Kakita province.
Kishou was bordered by the Gyousha province (K3) in the north, by ronin lands in the west, which separated from the Tsuruchi provinces, by the Itoshii province (Do3) in the south, being enveloped by Yakamo's Heart in the east. [1]
Holdings
Edit
Its most important holdings were Aketsu, [1] Ice Fish Village and the Doji Plains. [2]
Known Governor
Edit
References