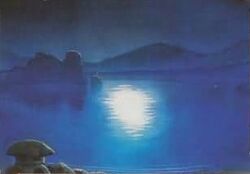 Forbidden Lake was a stagnant lake [1] of black waters. The Black Finger River ended onto it. [2] The water was almost unnaturally placid, and only the most severe of storms were able to create waves on its surface. [3]
Crystal of Lake
Edit
Legend said that before the fall of Fu Leng, the lake was known the Lake of Crystal and was one of the most beautiful and pure lakes in Rokugan. [3]
References
Ad blocker interference detected!
Wikia is a free-to-use site that makes money from advertising. We have a modified experience for viewers using ad blockers

Wikia is not accessible if you've made further modifications. Remove the custom ad blocker rule(s) and the page will load as expected.