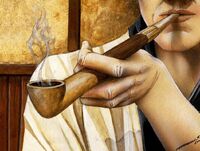 Kiseru (煙管, kiseru?) was a smoking pipe traditionally used for smoking kizami, a finely shredded tobacco product resembling human hair. Typically the mouth piece and bowl were made from metal, with a shaft of wood or bamboo in between. The bowl was small, permitting small servings with a low burning temperature. Many kiseru had been engraved with elaborate details by skilled artisans and were a status symbol for the owner.
External Links
Edit
Ad blocker interference detected!
Wikia is a free-to-use site that makes money from advertising. We have a modified experience for viewers using ad blockers

Wikia is not accessible if you've made further modifications. Remove the custom ad blocker rule(s) and the page will load as expected.