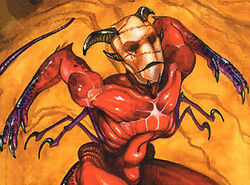 Kirei was a Shadowlands creature made by Shahai. She combined pieces of various creatures with a still living human torture victim to create the kirei, a hunting beast. The Dark Daughter kept with her several packs of them when she was within the Shadowlands. Skinless, with claws, a tail, pieces of various creatures, all fused into its body, with a mask of stitched human skin magically bounded to its face. It moved with an alien, yet almost feline grace. During the Time of Demons Shahai used some of the disloyal Lost to make new Kirei and gifted them to those who remained loyal to Daigotsu. [1]
External Links
Edit
Kirei (Fall of Otosan Uchi)
References
↑ Creatures of Rokugan: Third Edition, p. 125
Ad blocker interference detected!
Wikia is a free-to-use site that makes money from advertising. We have a modified experience for viewers using ad blockers

Wikia is not accessible if you've made further modifications. Remove the custom ad blocker rule(s) and the page will load as expected.