The Kintani Valley was the ancestral land of the Tsume family, vassals of the Doji. It was located south of Phoenix territory and east of Lion territory, close to Toshi Ranbo. The valley was a contested territory between the three clans but the majority of it is under the Tsume's command. The Kyotei Castle sat there. [1]
The valley had fertile lands and a wide river. It was said that the Clan which would control it would be prevalent in north Rokugan. [2]
Early Years
Edit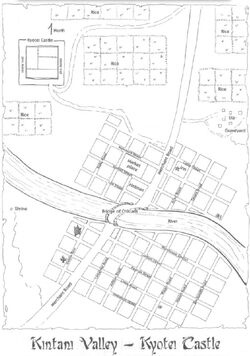 Kintani Valley was a strategic point that menaced the Lion in the struggle for control of northern Rokugan, as it would be used as a staging point for a major offensive to have free rein to march across the plains of the central Lion territories. In 437 the Lion Generals decided to create a fortified keep and a series of outbuildings, originally known as the Northern Fortress. In 595 Kintani Valley already had become a major source of food and revenue for the Crane, forcing the Lion to build-up their forces in the region. The small settlement would eventually become the city of Toshi Ranbo. [3]
Fight with the Lion
Edit
In 598 Toshi Ranbo was assaulted by the Crane who held it for eight days. The Lion began fortifying the city heavily. [4] The next Crane assault, in the year 600, failed, with the Crane suffering heavy losses. However, a subsequent Lion offensive in the year 601, directed at the Kintani Valley, was driven back by the Crane. [5]
References
Ad blocker interference detected!
Wikia is a free-to-use site that makes money from advertising. We have a modified experience for viewers using ad blockers

Wikia is not accessible if you've made further modifications. Remove the custom ad blocker rule(s) and the page will load as expected.