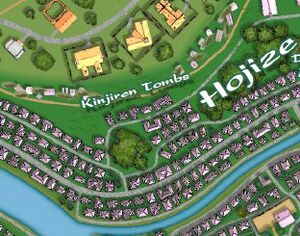 Kinjiren Tombs were located in the Hojize district of Otosan Uchi. The eta and heimin corpses were raised as zombies by Iuchiban during the Battle of Stolen Graves. Since then they were considered taboo and were left unmolested. [1]
References
↑ Otosan Uchi:Book 1, pp. 36-37
Ad blocker interference detected!
Wikia is a free-to-use site that makes money from advertising. We have a modified experience for viewers using ad blockers

Wikia is not accessible if you've made further modifications. Remove the custom ad blocker rule(s) and the page will load as expected.