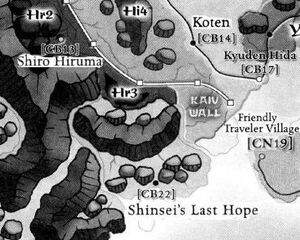 The Kinbou province (Hr3) was a Hiruma controlled province. It contained the southern most parts of the Twilight Mountains, and bordered Earthquake Fish Bay to the south, the Kaiu Wall to the East which separated from the Ishibei province (Hi4), the Shadowlands to the West, and the Ienikaeru province (Hr2) to the North. [1] The province produced some iron ore in some small mining villages, [2] and its only holding of note was Shinsei's Last Hope (CB26). [3]
References
Ad blocker interference detected!
Wikia is a free-to-use site that makes money from advertising. We have a modified experience for viewers using ad blockers

Wikia is not accessible if you've made further modifications. Remove the custom ad blocker rule(s) and the page will load as expected.